Project Love with Payman Fazly
Dr. Dan welcomes author, entrepreneur, and father Payman Fazly to the podcast to discuss his new book PROJECT LOVE: What Legacy Do You Want To Leave. The two passionate dads discuss Payman's memoir, parenting, healing, persistence, unconditional love, and Parent Footprint Awareness Training. This episode reminds listeners that when parents are self-aware they are happier and healthier and they raise happy, healthy children.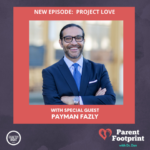 Change Your Thoughts – Change Your Life
Payman Fazly is working to heal generational trauma and make the world a better place for our children. He is the co-founder of Parent Footprint, an interactive online training program for parents and the author of Project Love: What Legacy Do You Want to Leave? In this episode, Payman shares the dream he had on the night that Wayne Dyer died, where Wayne gave him encouragement and advice on writing this book.